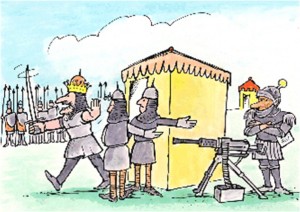 This cartoon used to be shown at virtually every sales training I attended 'back in the day'. You'd expect people to be more open nowadays but I was staggered recently while trying to speak to a particular person/company.
I had attended a Food Innovation conference in London earlier this year. One of the speakers was a Researcher for a well-known soft drinks company under Japanese ownership. After the event I invited the speaker to link via this site and he accepted by return. Good progress, I thought.
Subsequent messages went unacknowledged so I decided to call him.
I call the main office number and ask to speak to the above person and was amazed to hear their telephonist say:
"I'm sorry but we are not allowed to connect external calls. You can leave a message or send an email to reception@…"
I understand that important workers shouldn't be fielding incessant calls from salespeople BUT this 'isolationist' approach has to be counter-productive long term. It smacks of a level of arrogance that says "don't bother US. We'll find you if we need you."
However, in the meantime we'll sell our machine gun to their competitors.
Have you encountered this reluctance to connect directly with suppliers? How did you get around it?